The birth of a successful YouTube video involves two fundamental aspects: filming and editing. While filming involves capturing raw footage with a camera, editing involves refining the raw footage to achieve a story that fully captivates and inspires your target viewers.
In this guide, we will be focusing on how you can edit YouTube videos using your computer. We will also reveal some of the best video editing software for YouTube, so you can cut right to the chase and get your first project done!
Also, check out Animotica's blog for the top 10 best YouTube to MP3 converters. With these converters, you can easily listen to your videos on the go!
Sounds good? Let's jump into it!
Top 5 Video Editors for YouTube Videos
Back in the day, video editing was a cost-intensive process, requiring high-level skills and expensive professional equipment. But all that has changed in the 21st century. You can now make pro-grade videos using inexpensive or even free tools!
So in this section, we'll reveal some of our favorite video editors perfectly suited for YouTube videos. Let's get into it!
YouTube Studio
Yes, YouTube does have an inbuilt video editor that you can use for free. You can access it by clicking your profile and selecting YouTube Studio from the side panel.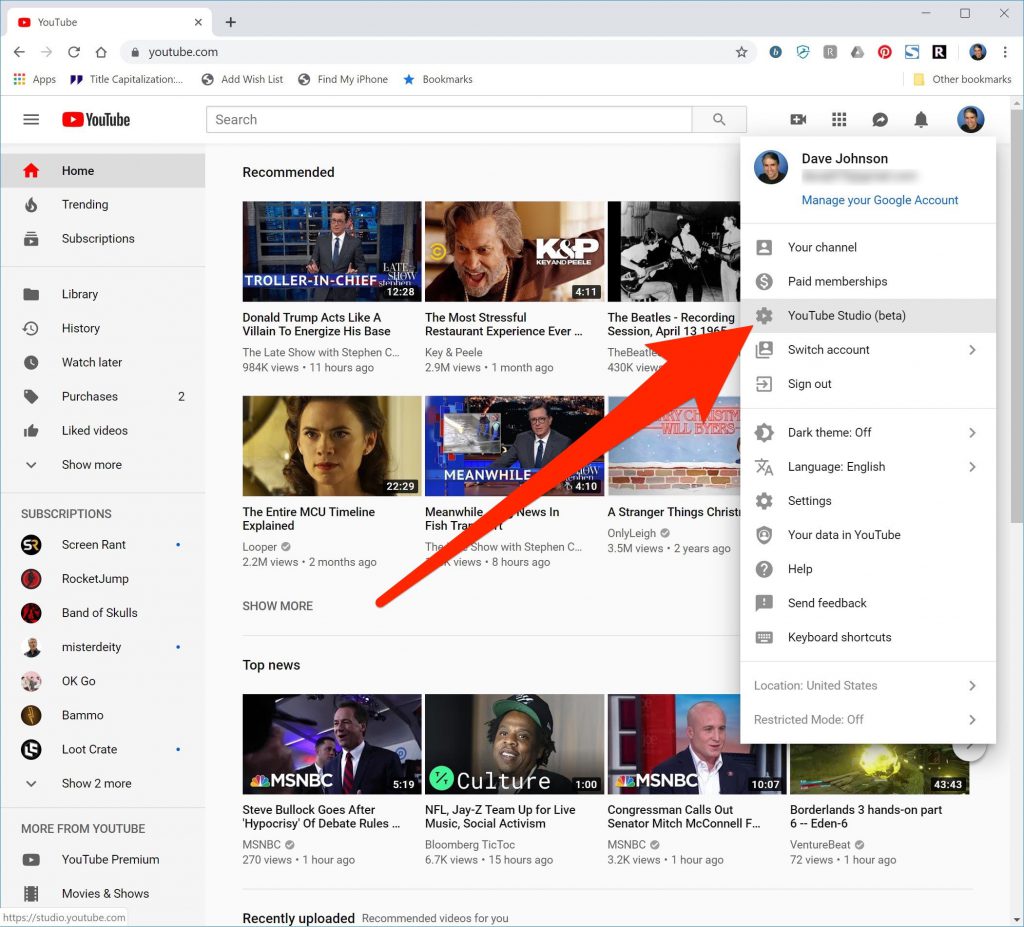 The editor allows you to do simple tasks such as trimming, splitting, and blurring elements in the background (car plate numbers, people, etc.). But that's all you can do with it.
The editor doesn't have any advanced features. Thus, if you'd like to do more technically advanced tweaks on your videos, you'd certainly need to use an external video editor.
Microsoft Photos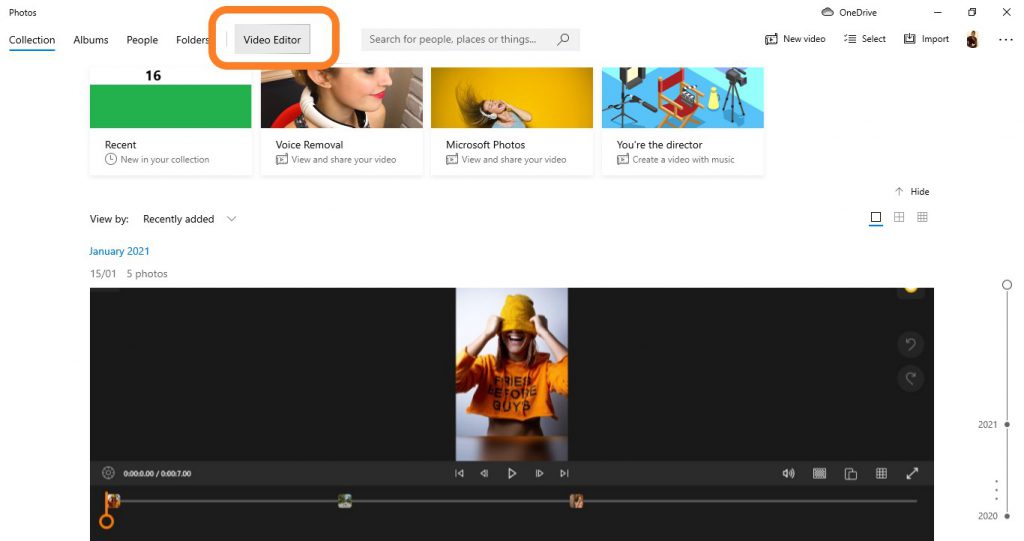 Not so many people know that Microsoft Photos contains a video editor. This app came as a replacement for the famous Windows Movie Maker back in 2017.
While it isn't as feature-rich as its predecessor, it does serve the purpose for those who want to do basic editing tasks on their YouTube videos.
Some of the things you can do include trimming, splitting, captions, adding music and a few special effects, etc.
It does have limitations, however. For example, you can't add transitions between your clips. You can't add advanced features, such as Green Screen effects, light leaks, 3D LUT presets, etc.
Adobe Premiere Pro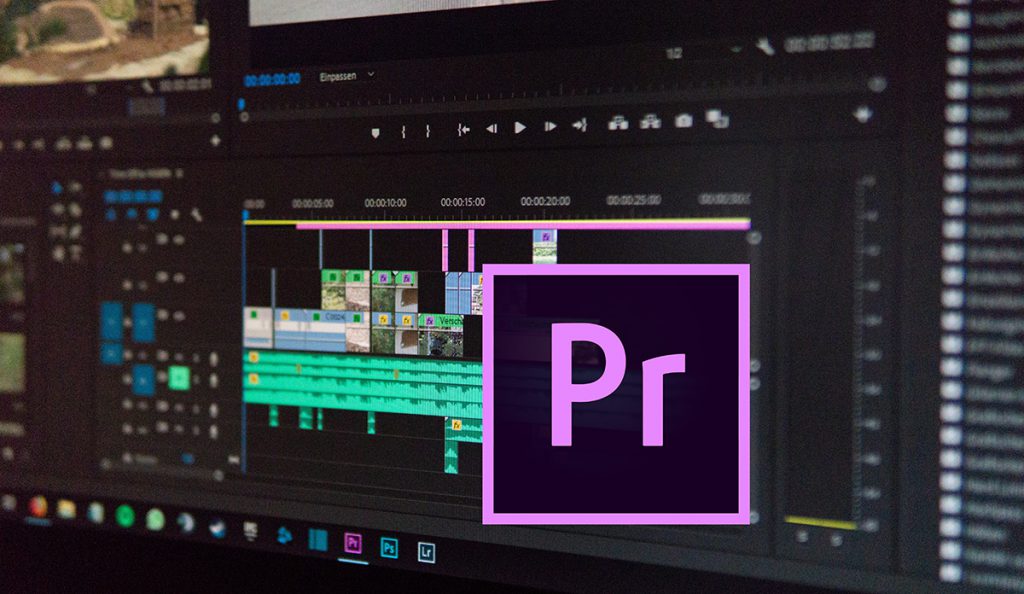 Adobe Premiere Pro is, without a doubt, the most popular video editor on the planet at the moment.
It is used by video editing experts at all levels, from top-rated movie producers to regular YouTube content creators. It has all the video editing features you can think of, establishing itself as a giant in the industry.
But there's a catch: Premiere Pro is relatively expensive, costing around $20 per month. Also, with its myriad of features, the software targets experienced post-production professionals. Thus, beginners will find its interface quite intimidating.
Filmora Wondershare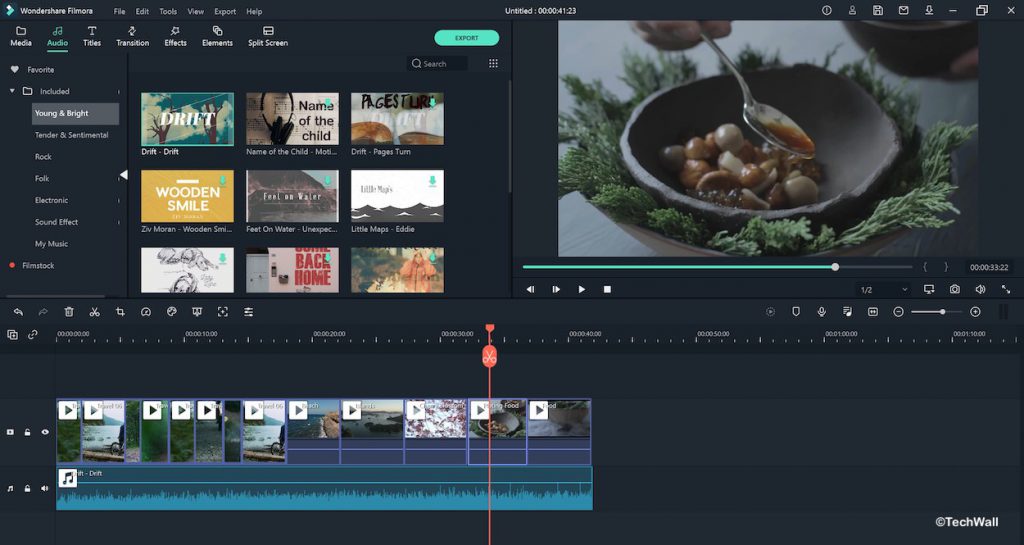 Filmora Wondershare is an impressive video editor that offers a wide range of features.
A few things to take note of, however, is how clustered its interface is. As a beginner, you might take some time to understand how to navigate the editor.
Filmora also runs on a subscription model, charging around $40 per year. If you want to get it at a one-time fee, Filmora goes for $70.
Animotica (Our Top Choice)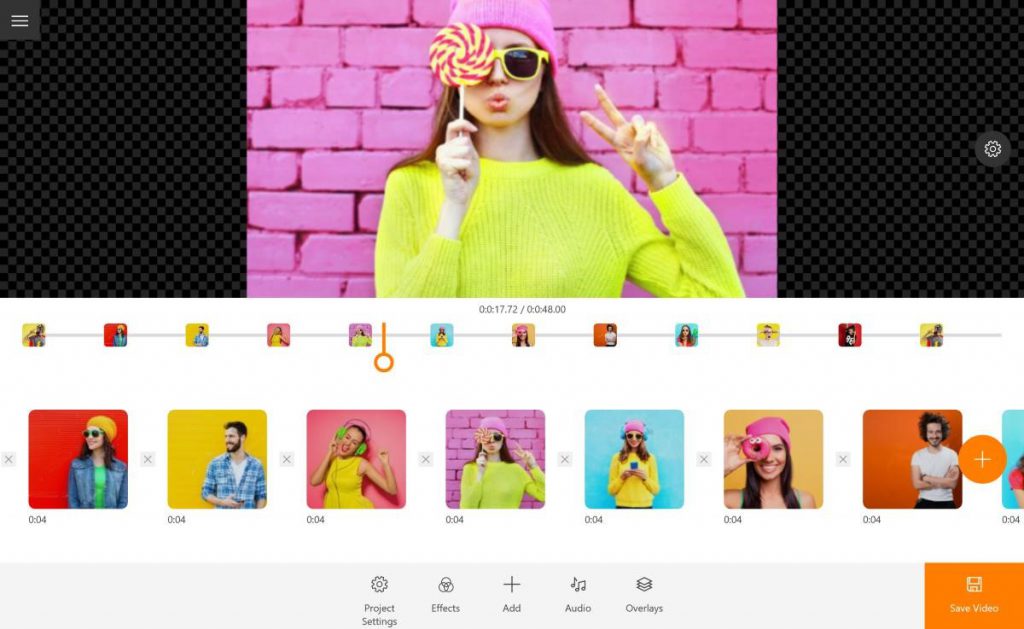 Animotica strikes a balance between the basic pointers of an ideal video editor: ease of use, cost-effectiveness, features, and intuitive design.
It is hands-down our favorite among the list, not just because we're slightly biased about it, but because it has served over 5 million users across the world and has maintained its spot as a top-rated software on Microsoft Store.
With Animotica, you get access to advanced features, such as Green Screen, Ken Burns, 3D LUT presets, light leaks, transitions, audio editing, screen recorder, and much more!
All these features allow you to make the best YouTube videos possible.
Unlike Filmora and Adobe Premiere, Animotica can be bought for a low one-time fee of $16 (for Full Pro) or $7 (for Light).
If you have no budget at the moment, Animotica's free version gives you access to basic tools to help you get your first video out!
Here's an honest head-to-head comparison between Animotica and Filmora.
How to Edit YouTube Videos on Your Windows PC
This section contains a practical guide on how you can edit your YouTube videos without complicating things for yourself!
For this guide, we will be using Animotica. This way, you will see how easy and fun it is to edit videos!
Click the button below to install Animotica for free.

Now, let's get to the meat of the guide!
Step 1: Create a New Project
Launch Animotica and hit on New Project. You'll appear on the project window, where you can begin editing your YouTube videos.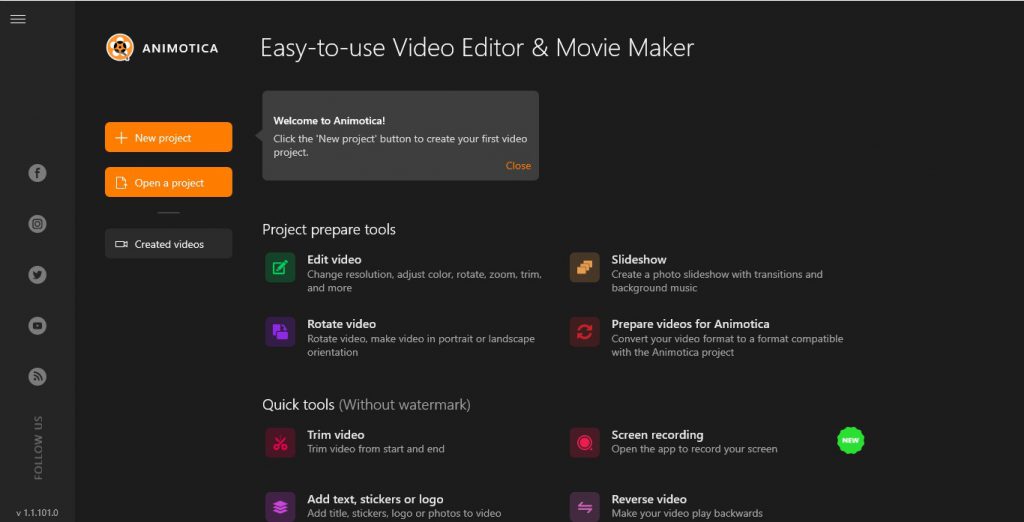 Step 2: Upload Your Video Clips
Select Add Video/Photo Clips to begin. From the popup menu, select Video or Photo Clips. This will allow you to navigate your storage area to locate, select and upload your video files.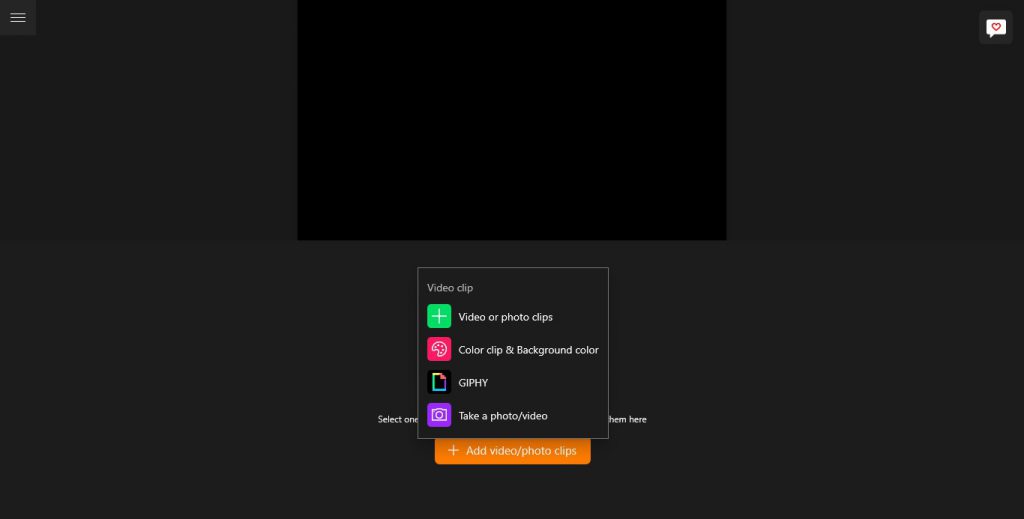 You can select multiple video files by holding down the CTRL button and selecting the required video clips.
Note: Don't freak out if Animotica shows a popup that says "preparing proxy files."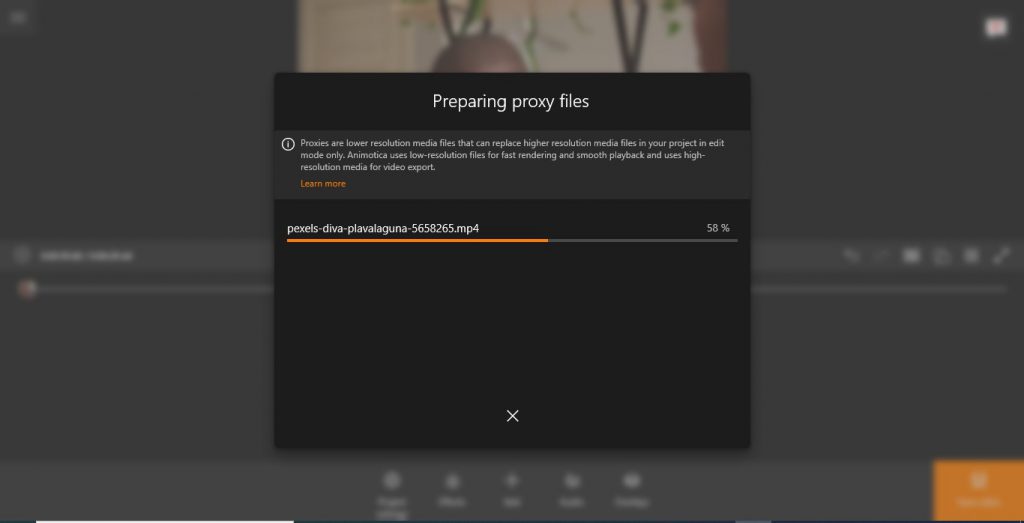 Proxy files are meant to help you edit high-res videos more comfortably. Learn more about them here.
Step 3: Set your Aspect Ratio
For YouTube, the recommended aspect ratio is 16:9. You can set the aspect ratio by clicking on the icon as shown below.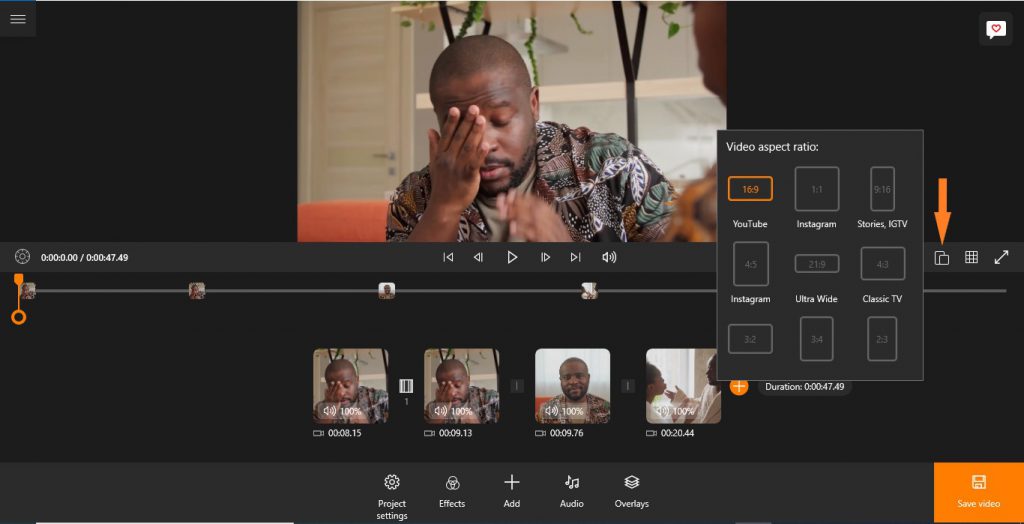 As you can see, the 16:9 aspect ratio comes preselected in Animotica.
Step 4: Edit Your Video
Now that you've uploaded your video clips onto your project, it's time to polish it up. Here are some of the things you can do.
Trim Your Video
The trimming tool allows you to cut off unnecessary parts of your video from the starting or ending parts.
To trim your video, drag your time slider to the point you wish to include in your video.
Next, tap on the video clip you wish to trim to reveal the editing menu. Select Trim. You can select Trim from Start, Trim from End, or the Trim Slider.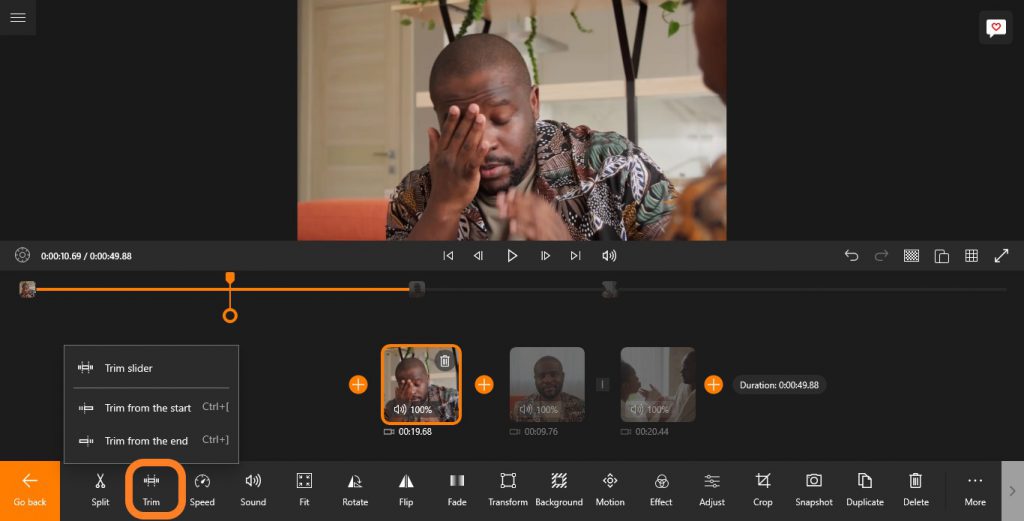 If you click Trim from Start, every frame to the left of the time slider will disappear.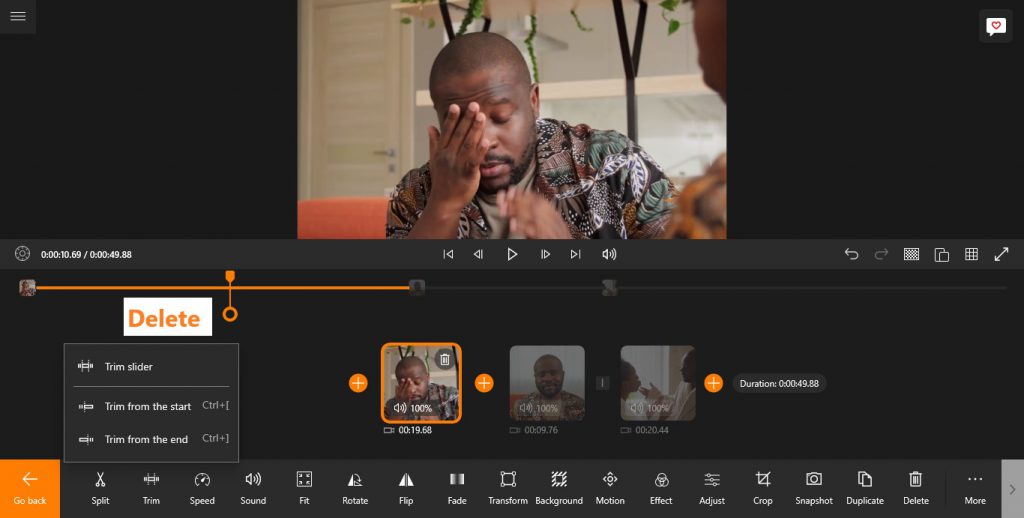 On the contrary, if you select Trim from End, every frame to the right of the time slider will disappear.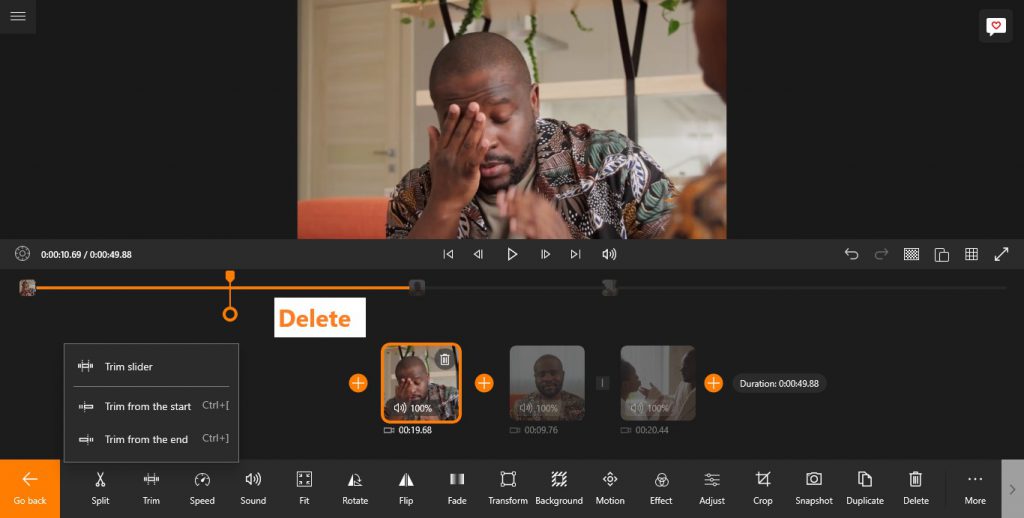 If you select Trim Slider, you will be able to trim both ends of the clip simultaneously.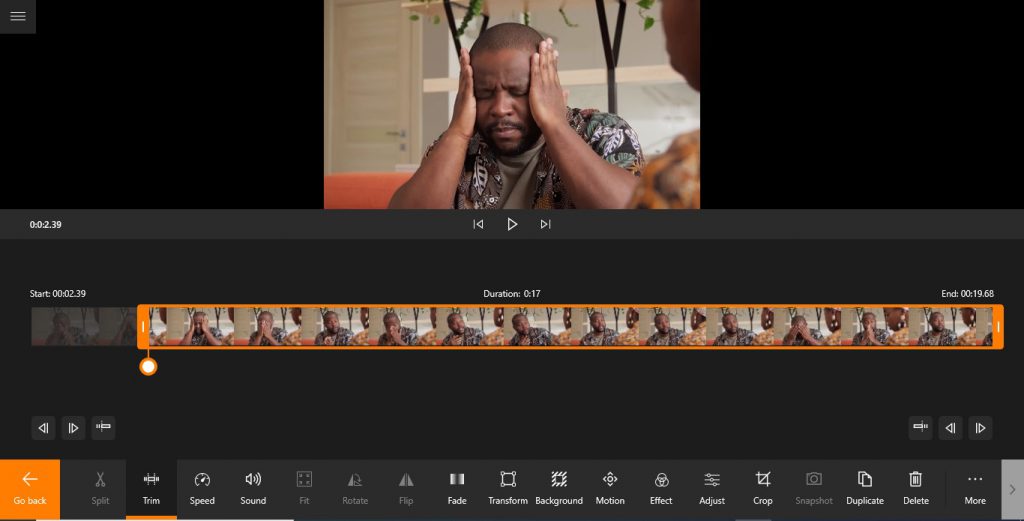 Split Your Video
First, drag the time slider to the point you want to split from. Next, hit on the thumbnail of the clip you'd like to split and select Split.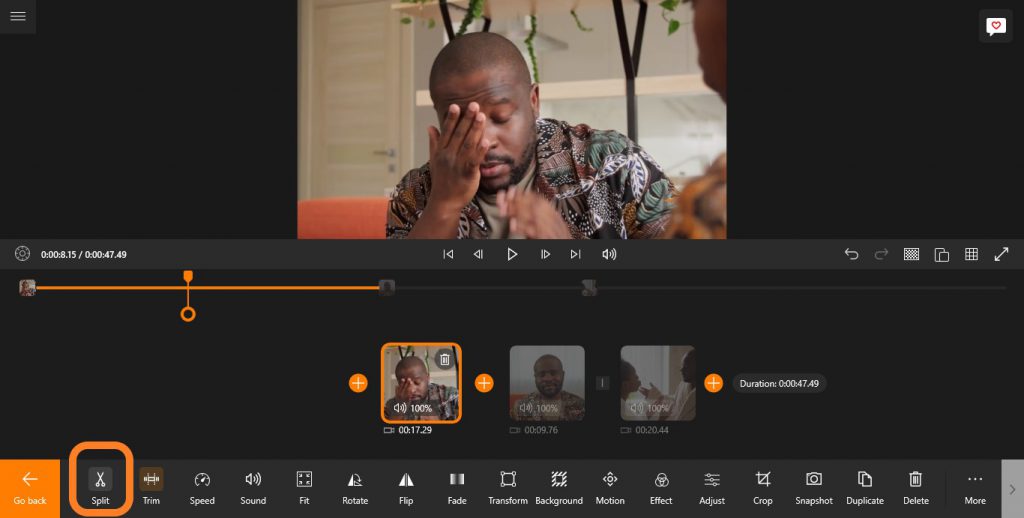 Now the clip will be split into two. You can repeat this a few more times if you wish.
Here's a tutorial on how you can get rid of unwanted parts using the trim and split tools.
Add Transitions
To add transitions between clips, tap on the tiny line between your chosen clips.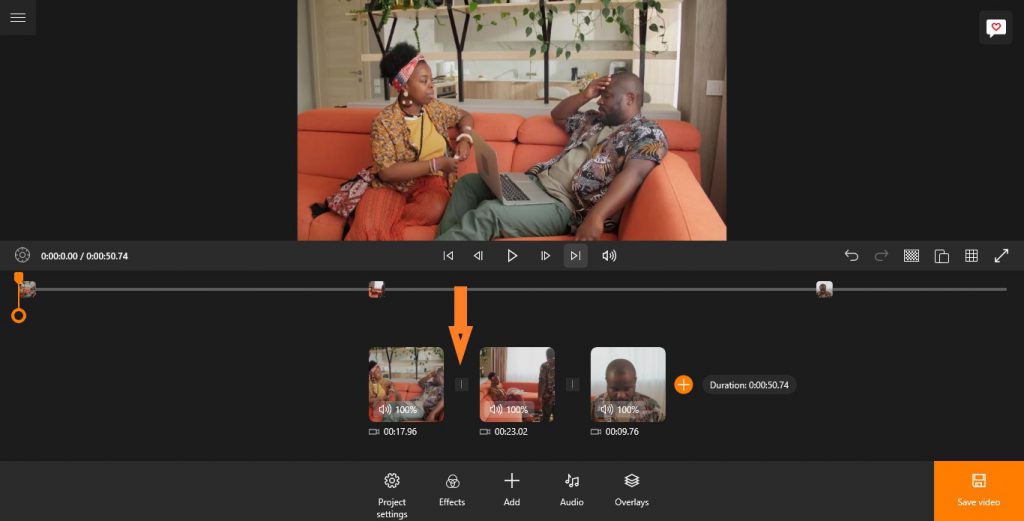 You'll see a wide array of transition effects. Select the one you like, choose your desired duration, and hit Go Back.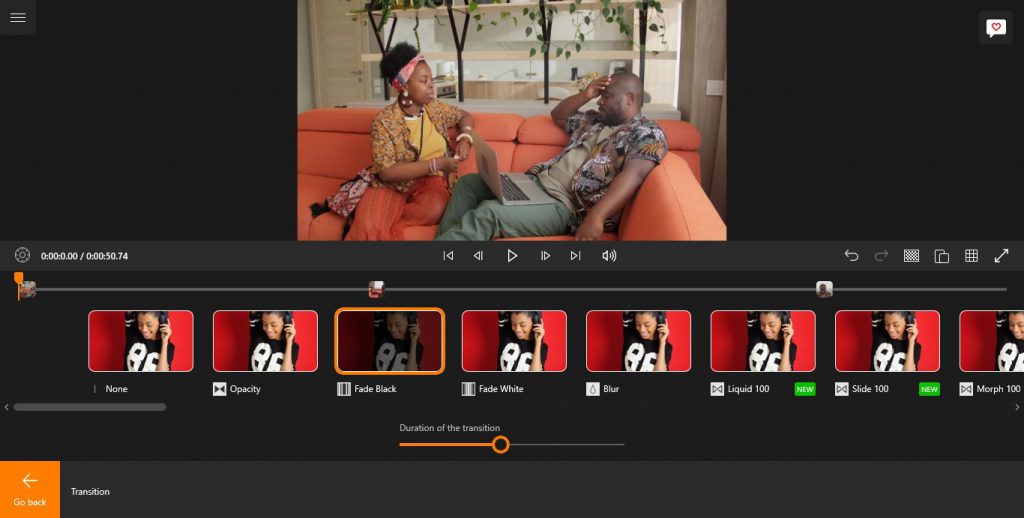 Add Texts/Captions
To add texts to your video, hit Add and select Text from the Layers & Overlays section.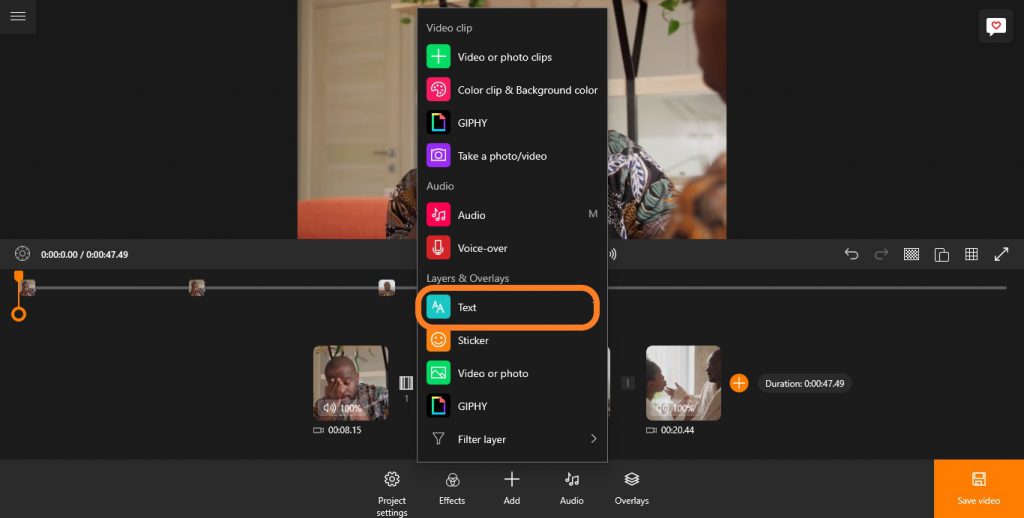 Type your text and hit X. Now, you can modify your text by changing the font, color, alignment, and much more.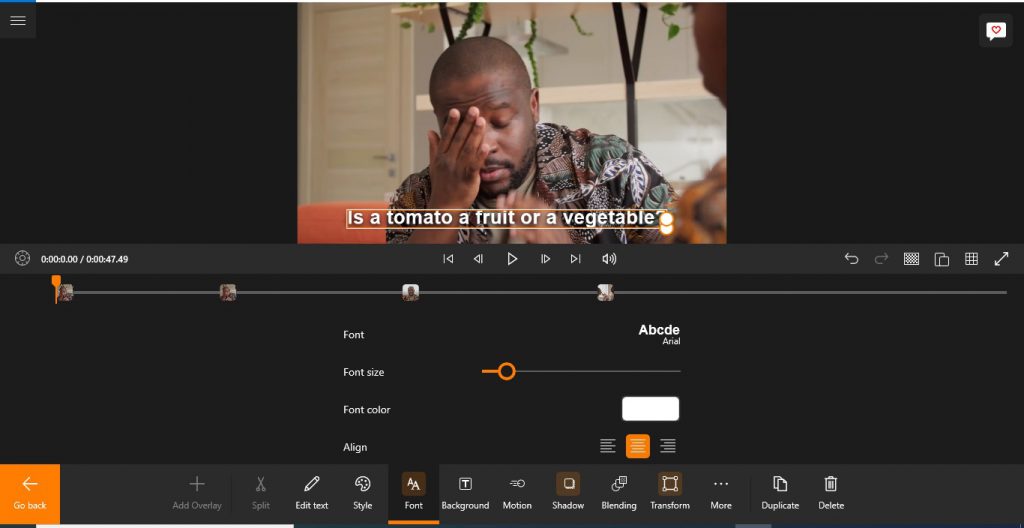 Here's a more in-depth guide on how to work with texts in Animotica.
Other Options
There are so many things you can do with Animotica to turn your video into a masterpiece. We've created separate guides. You can check them out as follows:
Just play around with the software and see what you can discover! If you make a mistake, hit CTRL+Z to undo.
Step 5: Save and Share Your Video
Hit Save Video to begin. Select Save As, input a filename, and hit Save.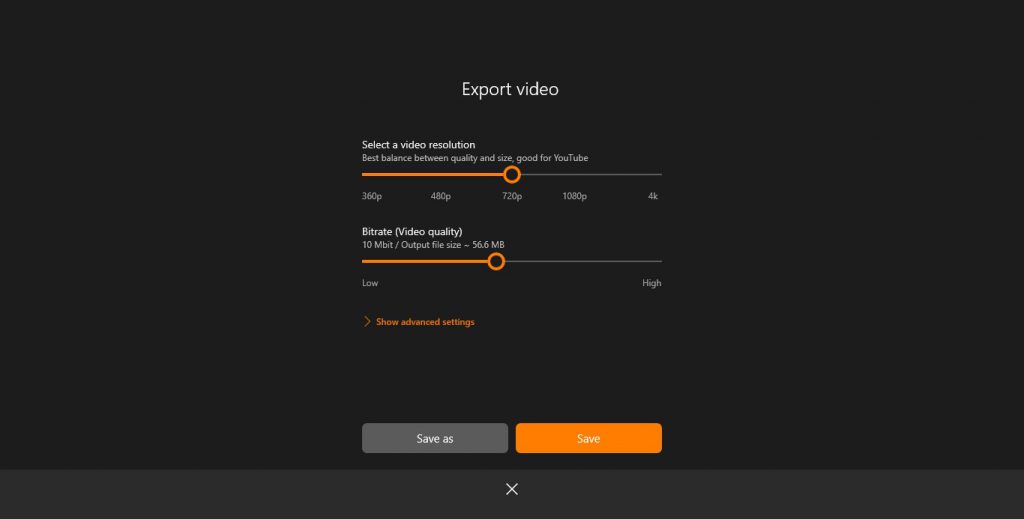 At this point, all you have to do is sit back and relax while Animotica finishes up the project.
After it's done exporting, you can now either exit the app, watch the video, or share it straight to YouTube.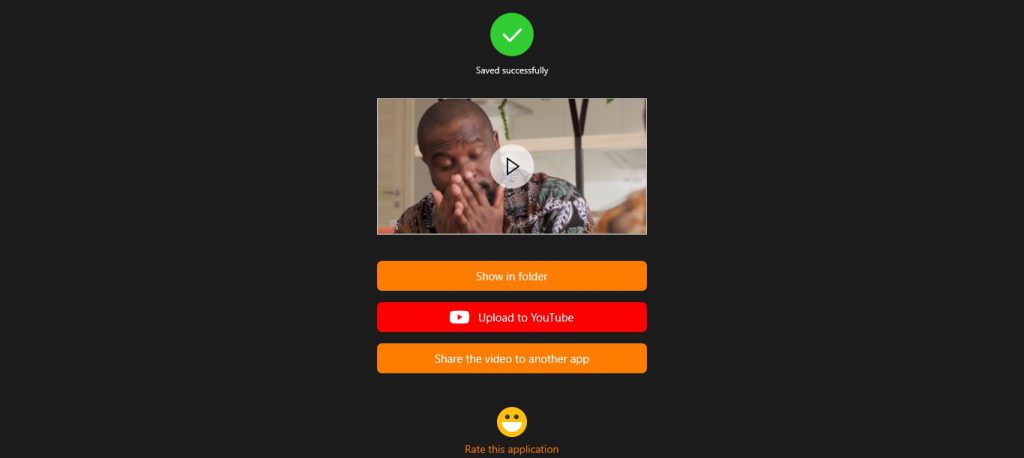 Conclusion
Editing YouTube videos has gotten way easier these days, and with Animotica, the process is a breeze!
We hope you found this guide helpful and easy to understand. Remember that it takes constant practice to master any form of art. So, keep at it, and you'll go far.
Do let us know if you have any inquiries or recommendations.
Cheers!