After recording an impressive run with its flagship software, Animotica, Mixilab has decided to launch a new software application on Microsoft Store.
Screen Recorder by Animotica is a simple tool that allows users to record their desktop screens and even capture webcam sessions. This tool came as a response to the challenge faced by Animotica users who need to record their screens sometimes. However, to make it even more easily accessible, the tool has been launched as a separate, lightweight app. 
This will come in very handy for game streaming, product demos, webcam interviews, tutorials, and more!
Main Features
Screen Recorder by Animotica is a pretty simple tool. However, it comes with some impressive features that everyone will love. Let's take a look at some of the main ones.
Screen and Webcam Recorder
This allows you to record every activity happening on your screen, from gaming sessions to tutorials. It also allows you to record your webcam sessions. While recording your screen or webcam sessions, Screen Recorder by Animotica lets you mute or record audio from your desktop window as well as your voice.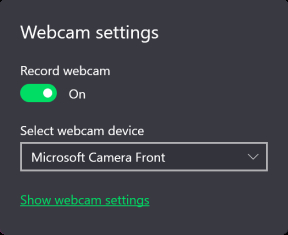 Full and Custom Display Recording
Screen Recorder by Animotica allows you to record your entire screen as well as a specific portion of your desktop window. To record a specific portion of your screen, you can either just move your cursor around the area, or manually enter your dimensions in the input box.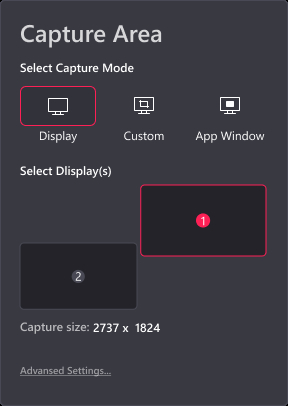 Background Recording
Screen Recorder by Animotica can be minimized to record in the background. This ability enables it to record your screen or webcam in a non-obstructive manner.
Delayed Recording
With delayed recording, you can set the app to start recording after a few seconds of hitting the record button. You can choose delays of 2, 5, or 10 seconds.
This function is particularly useful because it allows you to record a clean video with no abruptness.
Animotica Integration
Videos recorded using Screen Recorder by Animotica can be edited for free using Animotica.
Animotica app is integrated into the screen recorder so users can get access to it by clicking a button within the screen recorder. Editing your recorded videos will help you refine the videos and make them more professional.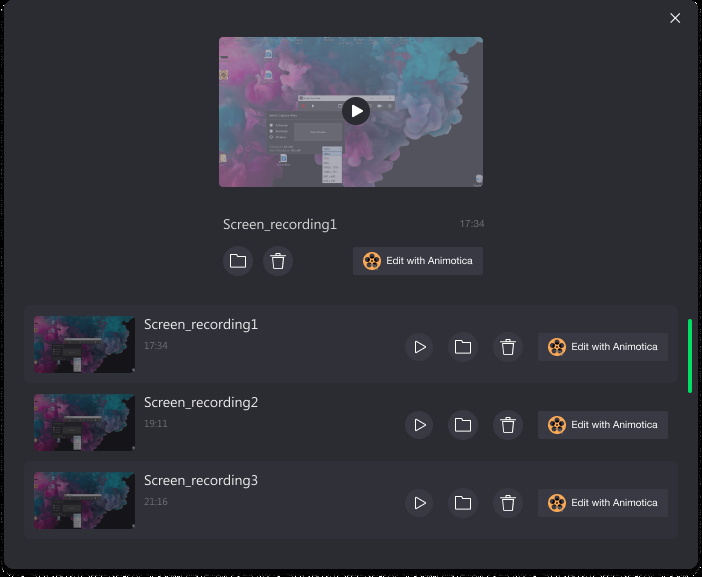 Light and Dark Themes
Screen Recorder by Animotica comes with two background themes: the light theme and the dark theme. Users are allowed to choose the one that best suits their taste.
Low CPU and Memory Usage
Screen Recorder by Animotica is built with storage conservation capabilities. You can set the quality and resolution of your recorded videos and even monitor the time and size of your data in real-time.
Upcoming Features
At Mixilab, we're always improving and updating our products with cutting-edge technology. One of the new features already on the way is the Green Screen (Chroma Key) Recording. This upcoming feature will allow you to change the background of your video recording, helping you create more exciting experiences for your viewers.
So, keep your eyes out for it!
Conclusion
Screen Recorder by Animotica is aimed at helping gamers, tutorial makers, and general content creators to capture and share their moments on their screens without complications.
We hope that it will be beneficial to as many people as possible and perhaps, over time, join Animotica as one of our most successful applications.
Cheers.