A decent game recorder will allow you to capture your gaming sessions in top-notch quality, giving you the opportunity to show off your gaming skills and tricks on social media without hassles!
In this guide, you'll get access to some of the best video game recorders for Windows 10 in 2022. We will include free ones (for those who are just starting off) and premium ones (for those who want to take things to another level).
Let's proceed!
5 Best Free Game Recorders in 2022
The following is a carefully selected list of the best free game recording software, along with their pros and cons. Let's check them out!
Open Broadcaster Software (OBS)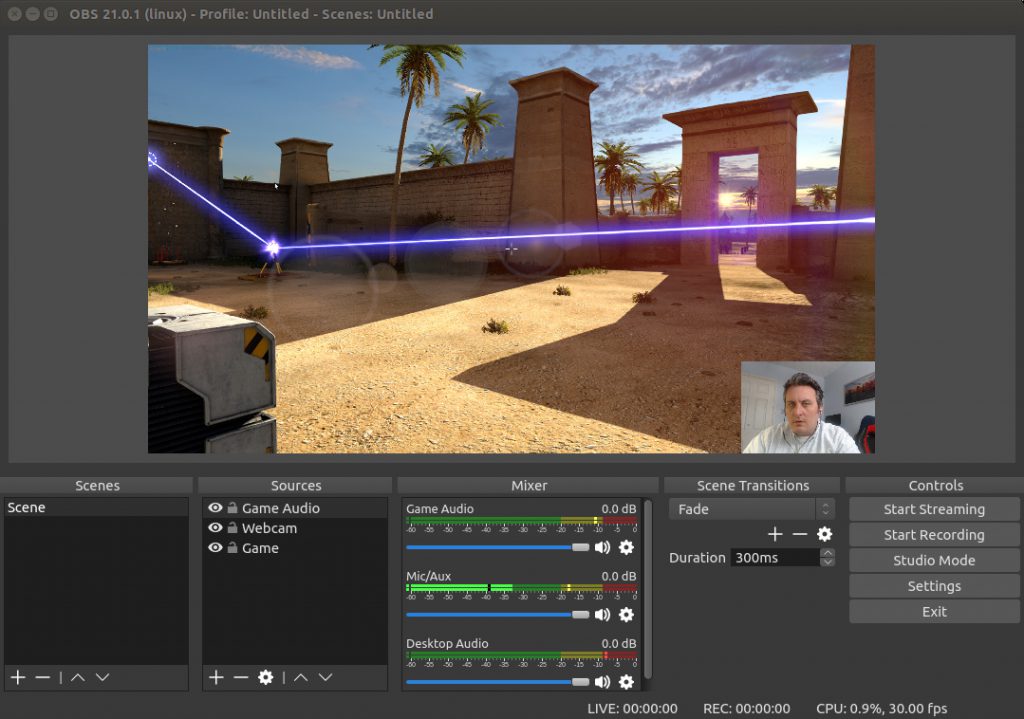 OBS is an open-source recording software suitable for any type of video recording and live streaming. It is, in fact, the most popular game recording software for low-end PC on this list.
The awesome thing about OBS is that it gives you premium features like high FPS, HD streaming, and more, all for free.
Pros
Completely free and open-source.
No recording length restrictions.
Allows recording in 60 FPS or more
Cons
Takes time to set up.
Not easy to use for beginners.
Outdated interface.
FBX
FBX is a free recorder designed specifically for games. This impressive software allows you to record in up to 144 FPS without lags and saves highlights as you play.
Pros
It has a basic in-built video editor for trimming videos.
Allows you to capture gaming sessions in high FPS.
Perfect for low-end PC.
Easy to use.
Cons
It only works with video games. You can't record other stuff comfortably.
Requires users to register and login after installation.
NVIDIA Shadowplay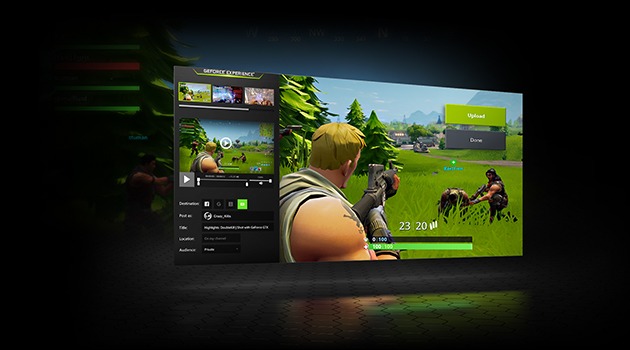 NVIDIA Shadowplay is a game recorder by NVIDIA and comes bundled with the company's GeForce Experience, which supports over 350 games.
You can record games in standard FPS and 4K quality. The software comes with an instant replay feature that can capture the last 30 seconds of your session when you press a hotkey.
Pros
Allows recording in 4K.
Allows you to create GIFs and 4K screenshots.
Supports live broadcasting.
Cons
Only works on NVIDIA graphics card-enabled PCs.
High memory consumption.
Xbox Game Barsx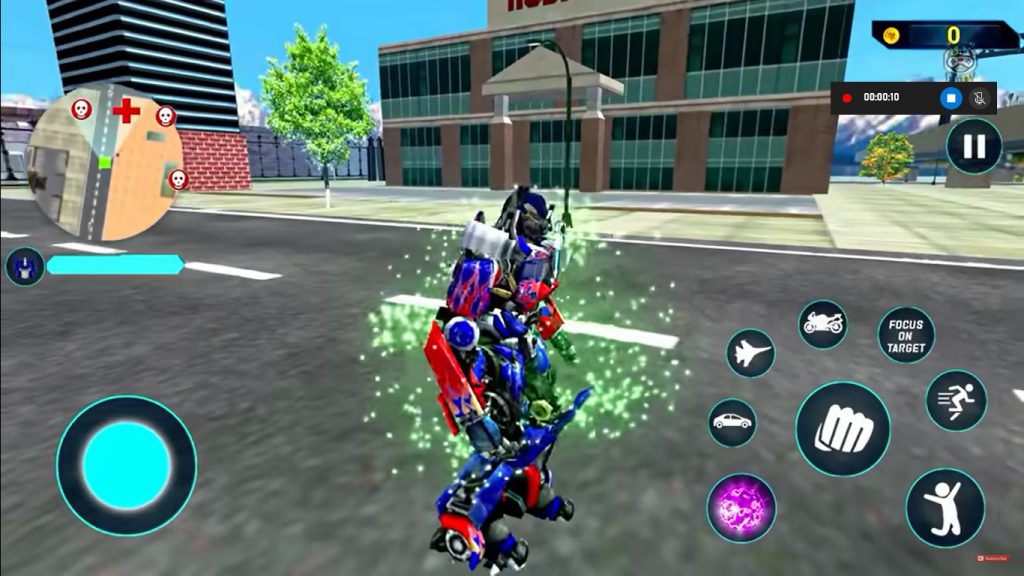 Maybe you didn't know that your Windows 10 PC has a secret in-built game recorder. The Xbox Game Bar typically comes with Windows 10 PCs and allows you to record gaming sessions for up to four hours.
The availability of the Xbox Game Bar feature means you might not need to install anything else. Just activate the feature, hit the hotkeys, and get going!
Pros
Easy to use.
Comes natively with Windows 10 PCs.
Cons
Works well only for Mixer streaming and not Twitch or YouTube.
Doesn't allow frame rates higher than 60 FPS.
LiteCam
LiteCam is a very simple screen recorder that allows you to record high-quality gaming sessions. It runs on the RSUPPORT Screen Capture Codec (RSCC), which helps it perform 30% faster than the generic Techsmith Screen Capture Codec (TSCC).
Overall, it is a pretty basic free recording software suitable for low-end PCs.
Pros
Easy to use.
Allows you to schedule your recording.
Cons
Free version allows a maximum frame rate of 30 FPS.
Recording audio only works if your sound card supports full duplexing.
The Problem with Most Free Game Recording Software
Using free game recording software is great for starters. But at a point, you're bound to realize that they've got some limitations that may not sit well with you. Thus, you might want to invest in a premium, budget-friendly game recorder from the get-go.
Let's consider some limitations of using free recording software.
Watermarks
Watermarks can be annoying sometimes, but that's one of the prices you'd have to pay for using software for free. That's how software companies benefit and survive. To get rid of watermarks, you'd be better off upgrading to a paid version.
Average Frame Rate
Most free game recorders allow you to record at a frame rate of 30 fps. Some do allow you to record at the standard rate of 60 fps. Only a few allow you to record at 120 fps.
Limited Recording Time Frame
Most free game recorders put limits on how long you can record for each session. The time limit can be anywhere from 30 minutes to four hours. It really depends on the software.
No Advanced Features
Free game recording software mostly provides you with the basics. You can record a decent gaming session with these. But they do not offer advanced features, such as Green Screen/Chroma Key recording like other premium recorders do.
With all that said, if you'd like to check out some top premium game recording apps of 2021, the next section will give you all that information!
Let's jump right into it!
5 Best Video Game Recording Software for Windows PC in 2021 (Paid)
Premium game recorders are known for offering top-notch frame rates, high video quality, no-lag experience, and unlimited recording time.
Here, we'll explore some of our favorite game recording software along with their pros and cons.
Let's proceed!
Screen Recorder by Animotica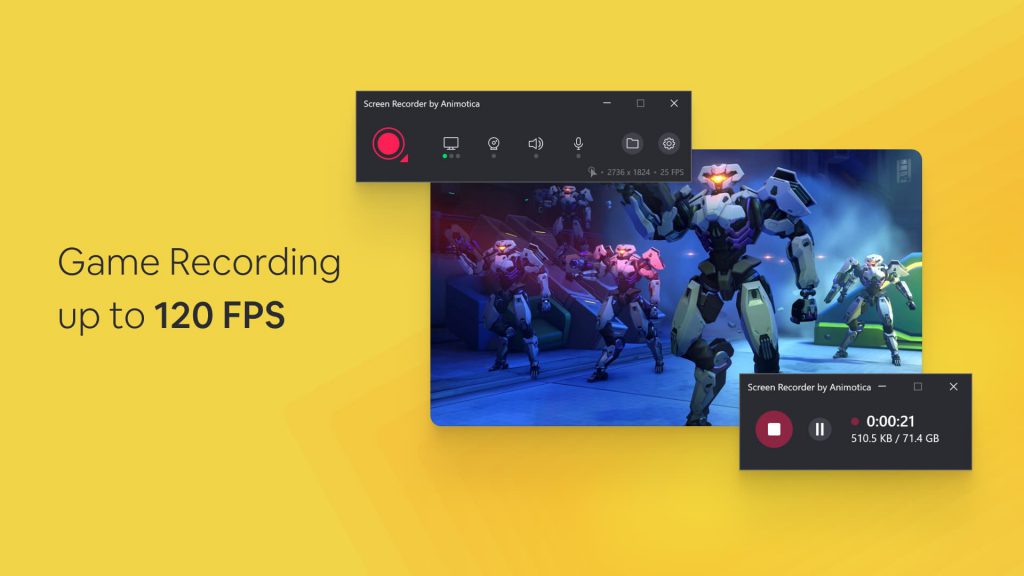 Easily our favorite on this list, Screen Recorder by Animotica is a simple yet powerful recorder that allows you to capture every gaming moment in full HD quality.
You can record your gaming session in up to 120 FPS for as long as you like. It also has the Green Screen functionality that allows you to transform your background for a more immersive experience.
Pros
No limits on recording length.
Green Screen feature.
Easy to use.
It has the Window Recording feature that allows you to record ONLY your gaming session.
It offers a real-time counter to help you monitor and manage the quality and size of your recording.
It offers a video editor for polishing up your recording for free.
Cons
Only available for Windows 10 users.
Price: $9.99, trial version available.
Bandicam
Bandicam is an impressive game recorder that allows you to record your gaming sessions in 4K Ultra HD quality with no lag. It offers a frame rate of up to 480 fps and over 24 hours of non-stop recording.
Bandicam allows you to also record only a specific part of your screen for privacy.
Pros
Offers 4K UHD video recording.
Supports several video formats and codecs.
Allows you to schedule your recording.
Cons
Relatively expensive.
Not so easy to use.
No video editing tools available.
Price: Starts at $39.95
Gecarta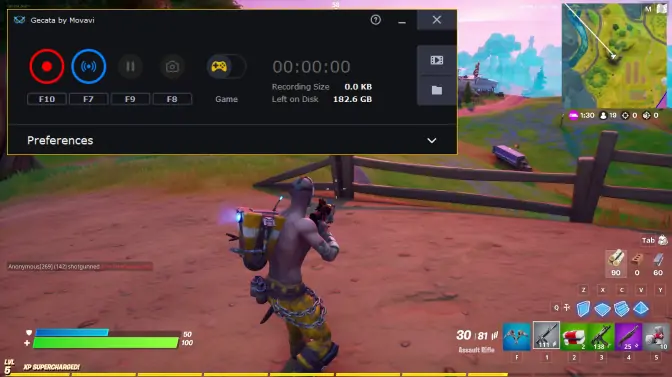 Gecarta is a simple, lightweight game recorder by Movavi. It comes with a fun, modern interface and allows users to record game plays in 4K resolution. You also get a basic video editing tool to cut off unwanted parts of your recording.
Gecarta also allows you to record at high frame rates (up to 120 FPS) with no lags.
Pros
Supports multiple video formats.
Easy to use.
Allows users to stream and record games at the same time.
Offers a two-way audio interface so you can cut out bloopers without affecting the game audio.
Cons
Green Screen feature not available.
The video editing tool is not available on its lowest pricing plan.
Price: Starts at $29.95.
Action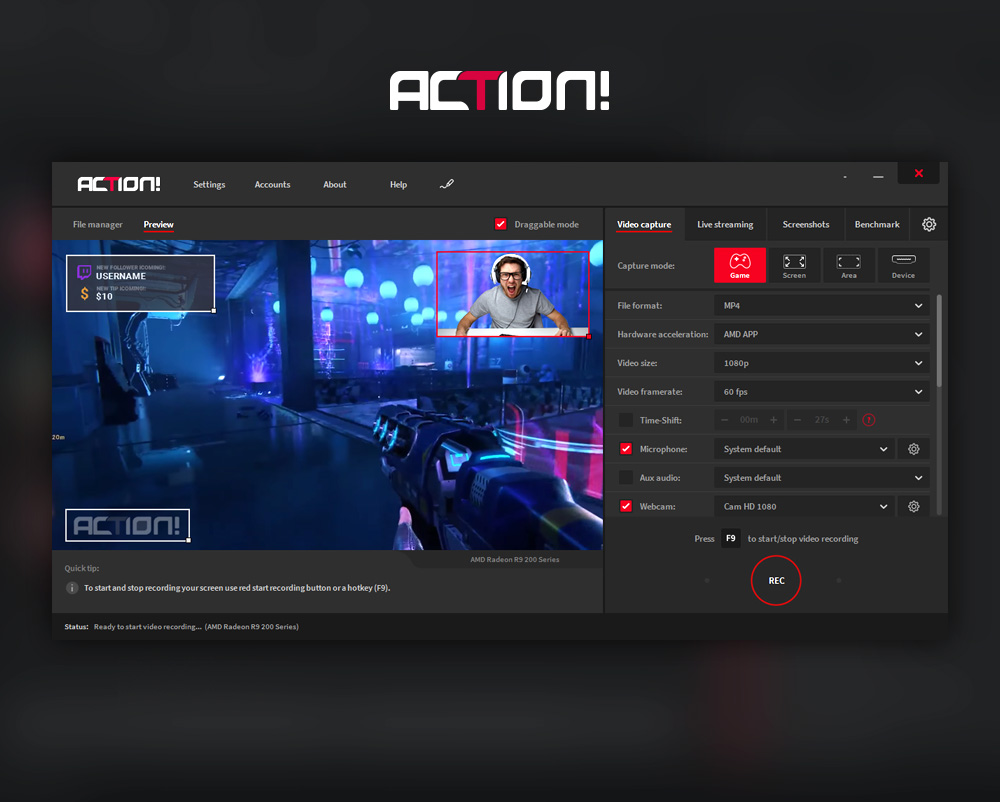 Action is a robust tool that allows you to record your gaming sessions in 4K video quality. It also gives you the ability to add live commentaries while streaming your gaming sessions on YouTube, Ustream, and Twitch.
It also has a Green Screen functionality and allows you record a specific window for privacy.
Pros
Comes with window recording functionality.
Offers live stream functionality.
Supports multiple video formats.
Suitable for low-end PCs.
Cons
D3DGear
D3DGear looks quite basic in the eye. But it does come with some extremely useful features. The game recording feature requires no special setups, and its compression system will compress your videos to make them shareable without losing quality.
It also allows users to record in up to 4K and 120 fps.
Pros
Superfast.
Easy to use.
Offers real-time compression.
Great for streaming games on popular platforms like YouTube, Facebook, Twitch, etc.
Cons
No green screen functionality.
Dated interface.
Our Recommendation
Having gone through our list of best game recorders for Windows 10 in 2022, we believe that making the right choice will become easier for you.
However, to save you the headaches, we strongly suggest that you try Screen Recorder by Animotica. As already described above, it is easy to use, rich in features, and not as pricey as its counterparts. Click the button below for a free trial!
Our most favorite from this list is Screen Recorder by Animotica since it's a perfect combination of simplicity, functionality, and price. It's also a great tool for recording educational videos, YouTube videos, and more. You can download it here.👇

Here's also a simple guide on how to record your gaming sessions on Windows 10.
For professional gamers, Action can be a good option too. Other than that, it's up to you to decide what functionality is enough for you and what functionality you're ready to pay for.
Conclusion
Game recorders have come a long way, with new features popping out every now and then. And with so many recorders already available on the internet, it's a little tough to make the right choice.
The list we've compiled above are some of the best video game recorders we've seen. We do hope that you'll find this information useful.
Have a fun game recording!😜