The business of visual content is growing quite rapidly, with new innovations taking over each other every day. This translates to more robust competitiveness in the content editing ecosystem, and to survive the competition, you have to stay abreast of new trends and technologies.
In a nutshell, you just need to keep your eyes—and your hands—on Mixilab!
Mixilab has been home to a number of top-rated content editing software since 2016, with over 4.4 million app downloads on Microsoft Store.
From making videos to cropping images, Mixilab's awesome family of products has got the muscle to help you squeeze the creative juice out of anything!
Let's introduce you to them!
Animotica
Think of Animotica as the flag bearer of Mixilab. Translated into over 10 languages with over 2 million users on Microsoft Store, this all-in-one premium tool allows you to have fun while making awesome videos and slideshows. If your system runs on Windows 10, then this software is perfect for you.
Its simple, yet elegant design helps you create, edit, and enhance videos and images with a bunch of great effects and animations. Its perfectly described aspect ratios allow you to create visual content that fits perfectly on platforms such as YouTube, Instagram, IGTV, Facebook, among others.
It takes only a couple minutes to understand how to create a masterpiece with Animotica, and once you start, there is no going back!
Here is a list of its basic features:
Cut, Trim, and Split – Easily remove unnecessary parts of your video.
Voiceover – Allows you to record speeches into your video through the microphone.
Filters and Effects – Add effects and filters to your content to give it an extra glow.
Background Music and Audio Effects – Add background music from your storage or use Animotica's library of free audio clips. You can make use of audio effects such as fade-in and fade-out, to add some extra finesse to your sound.
Transitions – Move from one clip to another using Animotica's suite of awesome transitions.
Overlays – Add texts, images, GIFs, videos, and move over your clips to add some extra touch of creativity.
Aspect Ratios – Set your masterpiece to fit into your favorite platforms using Animotica's easy-to-grasp options.
Animotica is free to use, but you can unlock the pro version for less than 10 dollars!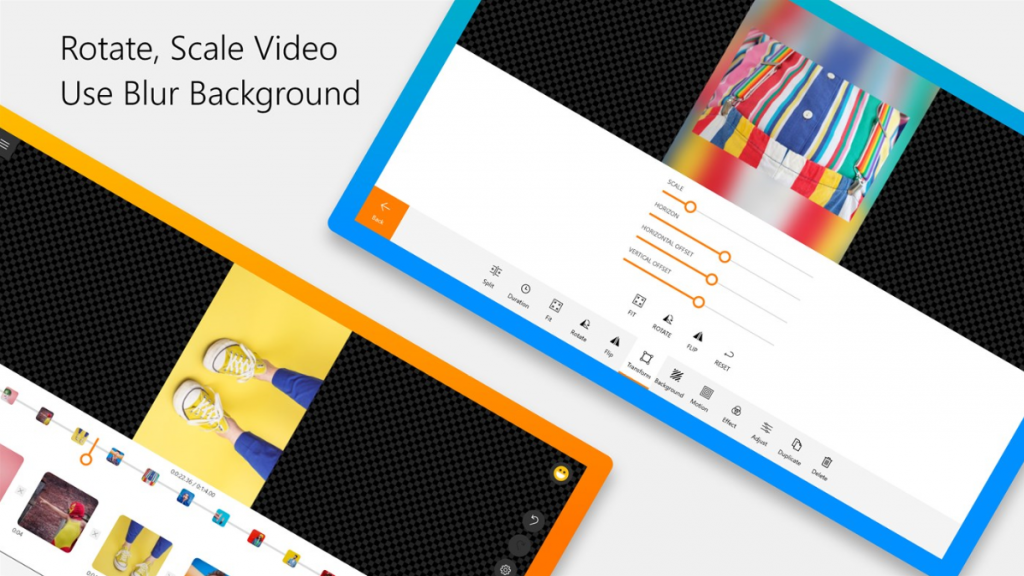 Learn more about Animotica and its great features here. Get Animotica on Microsoft Store NOW.
Video Cutter & Compressor
Getting frustrated by the unnecessarily large size of your videos? Do you want to save more storage space while achieving faster uploads with lighter, high-quality videos?
If you answered yes, then Mixilab's lightweight Video Cutter and Compressor is an excellent tool for your system. Again, it works perfectly for Windows 10 users.
With Video Cutter and Compressor, you can trim and compress your videos, making them up to ten times lighter while maintaining its original quality.
Here are its key features:
Resolution — Allows you to change the resolution of your videos.
Aspect Ratios — Adjust the aspect ratio to suit your desired platforms such as Facebook and YouTube, among others.
Enhancements — Adjust brightness, contrast, and saturation to make your video more presentable.
Flip, Rotate and Scale — Allows you to flip, rotate and adjust the fitting of your videos
Increase Volume — Allows you to amplify the video's volume by up to 200%
Video Cutter & Compressor makes it very easy and efficient to alter your videos to suit your needs.
The best part is that you can get all the great premium features of this software with a tiny fee. Prices may vary, depending on your country, but it's approximately 2 dollars.
Let's just say you're basically helping the developers with two cups of coffee.
Learn more about the software, and get yours here.
Video To Photo
This is a very simple, yet efficient tool that helps you grab pictures of your favorite scenes, off your favorite video clips!
It is swift and easy to use. You literally just have to upload the video into the software, roll the timer down to the picture you want, and hit the camera button! It takes only half a minute to get the perfect image for your thumbnail, or any purpose at all.
Here are its key features:
Supports a Wide Range of Video Formats such as mp4, m4v, mts, mov, wmv, avi, and asf!
Has a rotating button to help you roll down to the video position faster
Video To Photo's pro version goes for just 3 dollars. Obviously, Mixilab is all about offering high-quality products on a low budget.
Find out more about Video to Photo here, and be sure to download it as well.
CropiPIC
Are you considering reshooting a picture due to some minor flaws? We can assure you that there is no need for that because, with CropiPIC, you can easily crop your photographs to fit your tastes like the last piece of a jigsaw puzzle!
Having cropped your picture, CropiPIC allows you to pour out your creativity with a bunch of easy-to-use enhancement features.
CropiPIC also allows you to trim videos as well so you can focus on that particular segment that appeals more to you.
Here are the basic features:
Trim — Allows you to trim videos.
Background — Gives your pictures and videos a set of background features such as blur, color, pixel, and pattern.
Placement — Helps you place the video or picture on a desired part of the background.
Effects — Offers a wide range of options for enhancing the physical appearance of your videos and pictures.
Audio — Allows you to add or delete audio.
Watermark — Helps you mark your videos and photos with unique texts and logos.
Ratios — Sets your videos to suit your chosen platform—YouTube, Facebook, Instagram, etc.
Just like other Mixilab's products, CropiPIC's pro version costs so little. You can get it for less than 2 dollars!
Learn more about CropiPIC here, and be sure to download.
Coming Soon: Mixilab's Most Anticipated Arrivals
Owing to the wide acceptance of Mixilab's products, the developers at Mixilab are running high on motivation, and there are several awesome stuff coming your way.
Here they are:
Screen Recorder
Screen Recorder will help you record all your on-screen activities with no hassle. Maybe you want to record your screen while playing your favorite game, or perhaps, you're trying to show your mum how to change her password on her computer, whatever you need a screen recording software for, Mixilab has got you covered.
To get early access, send us email to marketing @ mixilab.com.
Thumbnail Maker
There is no underestimating the power of great thumbnails. Thumbnail Maker will help you make thumbnails which effectively capture your audience. Whether you own a YouTube channel, Instagram, or a blog, this software will be your treasure.
To get early access, send us email to marketing @ mixilab.com.
Gif Maker
Do you want to instantly make looped GIFs to boost your users' engagements and fire your business to the top?
If yes, Mixilab's Gif Maker is what you need. Wait for it! It's much better than you'd imagine.
To get early access, send us email to marketing @ mixilab.com.
Patterns Maker
Making patterns for your images and videos can be such a cakewalk. With Mixilab's Pattern Maker, you'll be just a few clicks away from making unique, mesmerizing patterns for your videos and images!
To get early access, send us email to marketing @ mixilab.com.
Mixilab is ready to help you get to the Next Level
Mixilab's mission is to design simple, cost-effective, and powerful tools, to help you create that masterpiece in the shortest time possible.
All you need to bring to the table are your creativity and desire, the tools are already in place for you.
Although our products are currently supported on Windows 10, we have huge plans to expand.
Keep your eyes open, follow us on social media and subscribe to our newsletter. We want you to be a part of our growth!