If you've been searching online for the best Windows 10 video editor in 2020, chances are that you've come across either Filmora or Animotica—or both!
These are both awesome video editors serving video creators at all levels.
In this blog post, we will be comparing these editors against each other. Some of the things we'll consider include interfaces, features, pricing, and even more fundamental stuff like customer support and ease of use.
By the end of this comparison, we hope to help you determine which software is best for you, depending on your level of expertise, budget, and needs.
Sounds good? Let's dive into it!
Platform Compatibility
Let's kick off by considering how well Filmora and Animotica work with Windows, Mac, and ARM platforms.
Filmora9
Filmora is currently available for x64 systems running Windows 7, 8, and 10.
It is also available for MacOS laptops.
Animotica
Animotica is currently available only for x86 and x64 systems running Windows 10. There are no provisions for Windows 7 and 8. 
Animotica is also compatible with ARM architecture. This means that if you own a Microsoft Surface device, you can edit videos using Animotica.
Installation
Animotica
To install Animotica app, you need to launch your Microsoft Store app and search for 'Animotica' or simply click this direct link. Then you need to click 'Install' button and wait for a few seconds for the app to be installed. It's about 100Mb, so the speed depends on your Internet provider mostly. After that, the 'Install' button will change to 'Launch'. Click it to launch the app. All the process should take up to 2 minutes. 
Filmora
Search for Filmora on your browser, or follow this direct link. Click 'Free Download'. After that the installation file will be downloaded (about 1 Mb). Then you will have to launch it and follow the instructions. In general, it should take up to 5 minutes before you can launch the software.
Filmora launches considerably more slowly than Animotica.
Interface
Let's take a look at the user interface of the two editors and how they weigh against each other in terms of simplicity and efficiency.
Animotica
Upon launching the Animotica app, you're greeted by a home screen with a bunch of options and a welcome note that helps you to make your first step.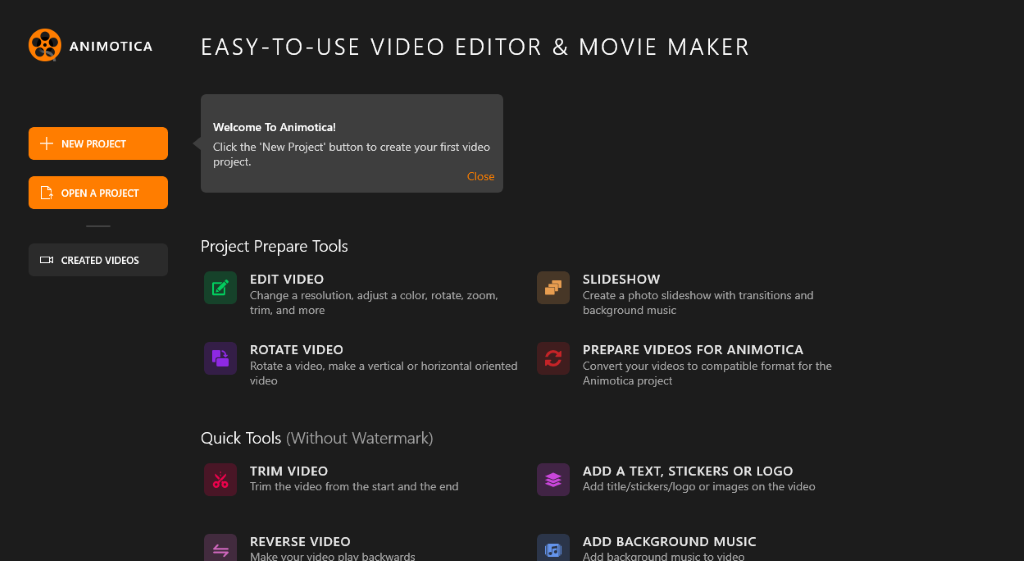 The New Project button is visible at the top right corner. You also get a bunch of 'direct' tools that allow you to jump right into it if you want to create slideshows, rotate videos, edit videos, and even prepare them to be used on Animotica.
You also get access to Quick Tools, which allow you to do some quick stuff to your videos such as trim, reverse, speed up or slow down, stabilize, etc., all for free and without watermark.
Hitting New Project takes you directly to the project window where you're prompted to upload your files. You also get a preview screen where you can monitor your progress in real-time.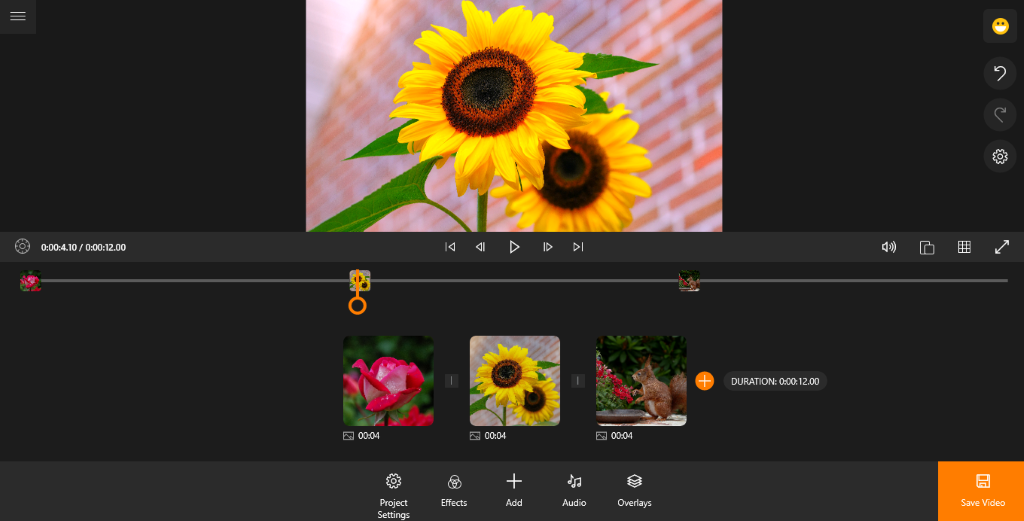 In general, the project window looks simple, and you won't have intimidating, complex features lying around the screen. To reveal editing tools for the clip you've uploaded, you'd need to tap the clip. Every other thing is pretty easy to do.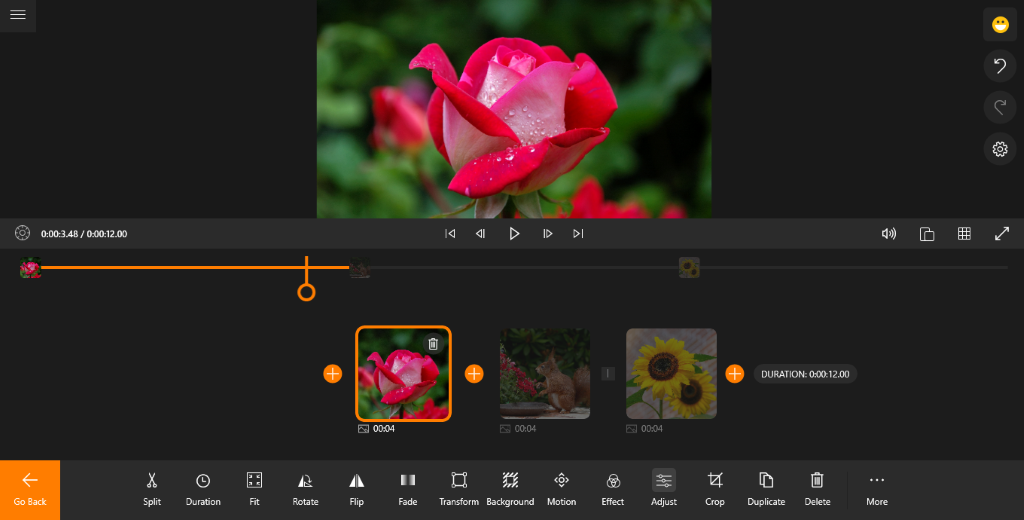 Animotica has dark and light themes that allow you to work with white or black backgrounds, as you deem fit.
Filmora9
Launching Filmora9 takes you directly to the project window so you can get right into business immediately.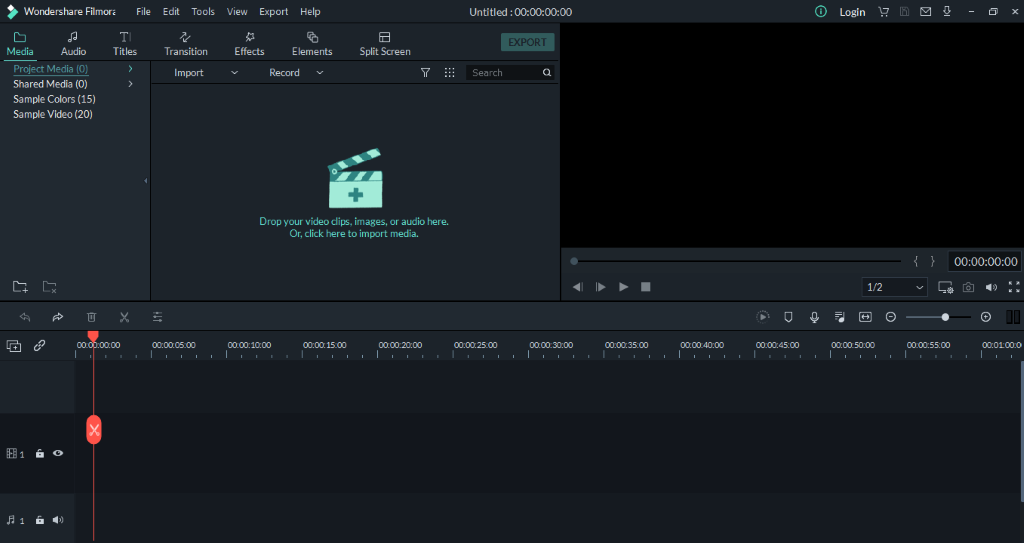 The project window houses a separate library at the top right corner where you get to upload all your files before editing. There is also a timeline where you handle all the editing process.
Filmora9 has most of its editing features displayed on your screen upfront with the probable intention of helping you know and see what you're working with right away.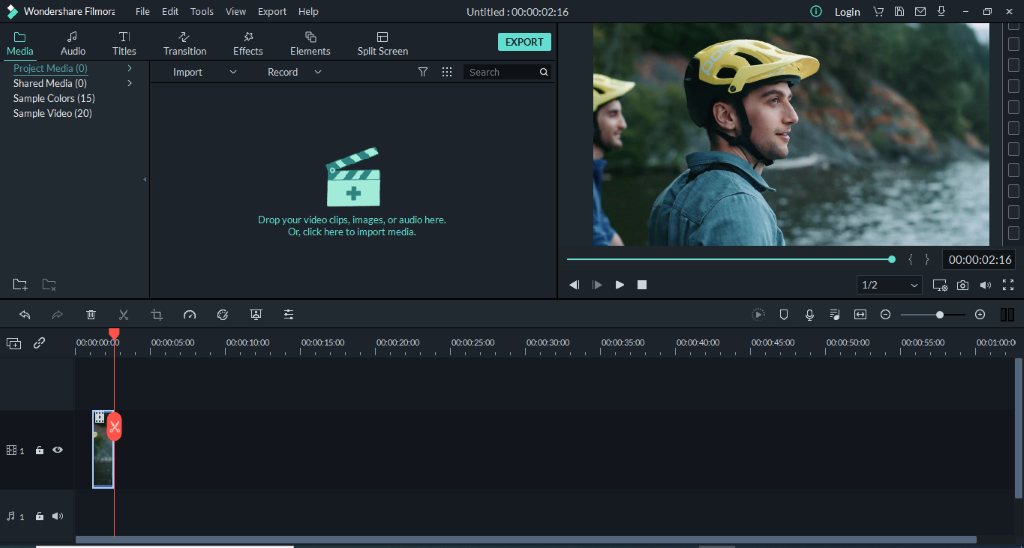 However, for new users, the presence of many small texts and characters on the screen can make it a bit hard to spot features quickly.
There is a small preview screen at the corner where you can monitor your progress in real-time.
In general, the interface looks a little bit 'techy' and crowded at first glance, owing to the fact that it has several tools packed on the screen at once. Thus, if you're a new user, it would take a little while before you get used to it.
To reveal other editing features, you have to tap on the clip you wish to edit.
Filmora9 only has one theme, a dark background with thin white fonts. Thus, users are not able to switch to lighter backgrounds to suit their alternative needs.
There is also a help button at the top, in case you run into issues, want to learn shortcuts, FAQs, and more.
Features Comparison
How do these two editors match against each other when judged by their features?
Here's a comparison of Filmora9's and Aimotica's features.
| | | |
| --- | --- | --- |
| Feature | Filmora9 | Animotica |
| Color Enhancement Tools | + | + |
| Motion Presets | + | + |
| Transition Effects | + | + |
| Color Effects | + | + |
| Screen Recorder | + | – |
| Elements | + | – |
| Speed Adjustment Tool | + | + |
| Zooming Tool | + | + |
| Titles | + | + |
| Audio Stock, Upload your own Audio | + | + |
| Audio Mixer | + | + |
| Noise Removal tool | + | – |
| Sample Videos | + | – |
| Color Grading | + | + |
| Chroma Key (For Green Screen Effect) | + | + |
| Stabilization | + | + |
| Film Stock | + | – |
| Export to YouTube | + | + |
| Voice Over | + | + |
| 4K Export | + | + |
| Share video | + | + |
| Speed Adjustment Tool | + | + |
| Video Reverse Tool | + | + |
| GIPHY and Sticker Library | – | + |
| Overlays Tool | – | + |
| Trim | + | + |
| Flip | + | + |
| Rotate | + | + |
| Video Fade Tool | – | + |
| Pan and Zoom Tools (Ken Burn Effects) | + | + |
| Background Changing tool | – | + |
| Transform Tool | + | + |
| Animated Captions | + | + |
| Split Screen | + | – |
| Blending and Opacity | – | + |
| Text Presets | + | + |
| Color Slide | + | + |
Some of Filmora9's features, such as elements and film stock, require an internet connection to be downloaded on demand.
Pricing Plan
Let's take a look at how much you'd need to acquire these video editors. It is important to note that both Filmora9 and Animotica offer free versions. These will allow you to carry out video editing tasks to some extent, and your exported files will have watermarks on them.
Also, Filmora9 has no customer support for free users. In contrast, Animotica offers free customer support to all its users.
Filmora9
Filmora9 uses an annual payment system, along with a one-time fee package.
For individuals, you can either pay $39.99 for its annual plan, $99.87 for its annual bundle plan, or a one-time fee of $69.99.
For Businesses, you get to pay $155.88 per year. For its Educational plan, students either pay $7.99 per month or a one-time fee of $48.99.
Animotica
Animotica runs on a one-time payment system. Thus, you pay once, and you own it fully, including future updates.
Animotica's payment plan is categorized into two: Animotica Full Pro and Animotica Light.
Animotica Full Pro gives you complete access to all of Animotica's features and updates for a one-time fee of $15.99 (the fee varies, depending on your location). Animotica Light offers a considerable level of access to premium features at $6.99. This is a one-time purchase, meaning that Animotica users will get free access to all further updates and new features.
Also, Animotica offers its Full Pro features free of charge to educational institutions.
Typical Users
Owing to factors, such as pricing, ease of use, features, etc., Animotica and Filmora work best for a specific set of users.
Let's analyze this.
Filmora9
Filmora9 works well for:
Freelancers
Startup teams
Medium to Large Enterprises
Video bloggers
In general, Filmora9 is most suitable for businesses where collaborative work is required. Such businesses will have to pay for Filmora9's business package.
Animotica
Animotica is suitable for:
Beginner and intermediate video bloggers
Students
Freelancers
Startups & small business owners
This is because it is inexpensive and also has advanced features needed to create sophisticated videos, just like Filmora9.
Languages Supported
While English is the dominant language, Animotica and Filmora9 support other languages as well.
Filmora9
Filmora9 supports twelve different languages.
English
German
Spanish
French
Italian
Portuguese
Japanese
Chinese
Russian
Dutch
Arabic
Korean
Animotica
Animotica, on the other hand, supports fifteen languages.
English
Russian
Spanish
French
Portuguese
Italian
Dutch
Turkish
Chinese
Korean
Hindi
Vietnamese
Thai
German
Japanese
Verdict
Between Animotica and Filmora9, which one is the better video editing software?
The honest answer is: it depends.
For instance, both are full-fledged, pro-level video editors and are essentially equal in terms of features.
But if you want to pay a low, non-recurring fee for all those features, you should download Animotica. This choice is most efficient for freelancers, students, and users who just start exploring movie making and video editing.  
However, if you're a medium or large business with a few video editing experts frequently collaborating on a video project, Filmora9 is definitely a better choice for you since it has a plan specifically made for that.
Another thing you'd consider is how well you relate to their interfaces. If you prefer a clean, minimalistic, newbie-friendly interface, Animotica is the better option for you. However, if you'd like to get that nerdy, slightly sophisticated techie vibe, then you should definitely go for Filmora9.
Furthermore, if you still use Windows 7 and 8 and are not upgrading to Windows 10 soon, then you should use Filmora9. This is because Animotica is specially designed to run only on Windows 10 computers. Though keep in mind, that Microsoft stopped support of Window 7 and going to discontinue an extended support of Windows 8 in 2023.
Finally, if you own a Mac laptop, you will have to go for Filmora9.
Conclusion
Filmora9 and Animotica are both excellent video editors because they are simple yet sophisticated enough to help you create magical videos.
However, depending on your budget and needs, along with the features we discussed, you would always have to choose one over the other.
I hope that the comparison you've read here will help you make calculated decisions in your quest to get the software that works best for you.
Is there anything we missed? Do you have any questions? Bring it to the comment section, and we'll be reacting accordingly.
Cheers!